Wonderful Katano(English version)
Wonderful Katano(English version)
Welcome to Katano Tourist Association's official website.
This English page titled "Wonderful Katano" introduces Katano's information and uploads essays written by citizens who deeply love Katano City.
Who We Are
Katano Tourist Association nicknamed "Hoshi no Machi Kanko Kyokai" is a social organisation to promote Katano's tourism and to provide domestic and foreign travellers with various information about what to do in Katano City.
KTA is supported by Katano City Council, Katano's local companies, and individuals. Therefore, our annual action plans are determined by approvement of KTA's affiliates. In other words, many people in Katano (we call them "Katanonians") are financially and materially assisting our daily activities. The reason is very simple. We want to make Katano more attractive for travellers.
We participate in town promoting events held throughout Japan and tell as many people as possible that Katano is a splendid city not only for the residents in Katano but also for travellers.
Furthermore, we offer many types of voluntary services for people who want to learn Katano. For example, we have local volunteers who can accompany as voluntary tour guide. They host city guided walk tours to introduce Katano's historical and cultural spots (see Katano Voluntary Guide Tour).
Brief Profile of Katano City & Mayor's Message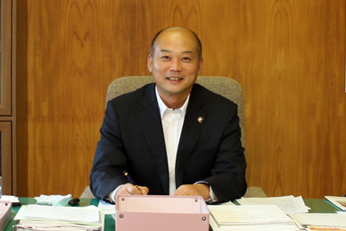 Mayor's Message
Mayor of Katano City: Minoru Kuroda
Dear Visitors
Katano is a nature-rich and historical city located near the two major central cities. People in Katano are using tap water drew from rich groundwater due to the fact that about 50 % of the 25 square kilometers town is occupied by a hill chain.
Two Sake breweries are making highly evalu
ated Sakes in Katano despite the fact that the number of Sake breweries in Osaka is decreasing year by year.
In Amanogawa River which is one of major rivers in Osaka, kingfishers can be seen. It is said that kingfishers are living near a clean river. It proves that Katano has rich forests and clean rivers.
From the top of our symbolic hill called "Konosan (341 meter)", high buildings in Kyobashi and Umeda, Kyoto Tower, and, if it is fine weather, even Awajishima Island can be seen.
Katano is located within about 20 kilometers from Central Osaka, Kyoto City, and Nara City. There are 6 JR and Keihan stations, and 2 gateways of Second Keihan Motorway in Katano. Our location and public transporta
tion system are very ideal to get to major cities easily.
Katano was called "Katanogahara" when the Japanese Capital moved from Nara to Kyoto about 1200 years ago. Katano is introduced in a lot of Waka (5-7-5-7-7 metre Japanese poem) as a popular high-grade resort for Heian nobles. They came here for cherry blossom viewing and hunting. There are a lot of historical shrines and temples in Katano.
Some of them are deeply relating to mysterious stories such as the tale of Tanabata and the story of the deity Nigihayahi. Furthermore, the Katano's hill chain was a sacred place for Shugendo based on the notion of mountain worship.
I do want you to touch on Katano's rich nature and history succeeded from generation to generation.
I am very looking forward to your coming to Katano.
Minoru Kuroda
Mayor of Katano City