July is a special month in which big summer events are held in Katano. For example, Tanabata Festival on June 7th is a historical event relating to the tale of Tanabata. In the festival at Hatamono Shrine, people hang up coloured strips of paper on sticks of bamboo. The landscape is very colourful and gorgeous. Tanabata Festival is held at several shrines in Katano.
Katano's Summer Event Schedule
The event place map (Google Map) is available here.
(July 2nd)
Hirakata Katano Amanogawa Tourism Opening Event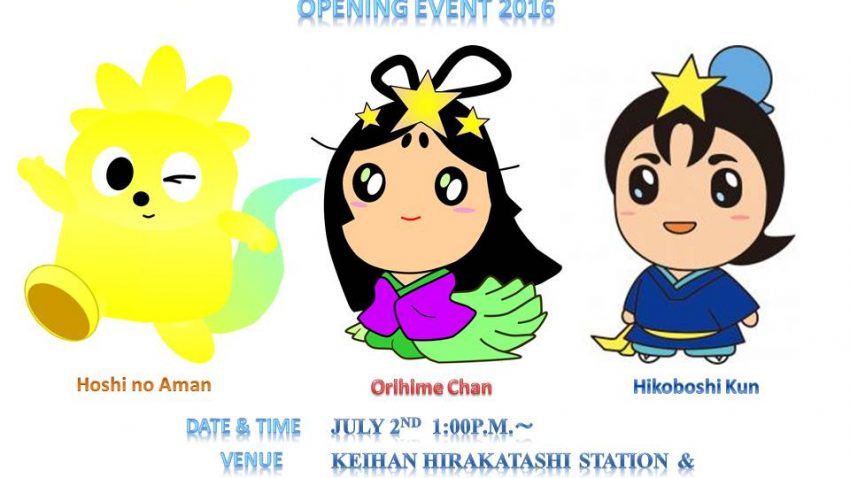 Venue: Keihan Hirakatashi Station
Time: Pre-event by Setsunan University 11:00a.m. ~
Opening Ceremony 12:40p.m. ~
(July 3rd)
Aeon Mall Shijyonawate Tanabata Event
※To promote Katano Amanogawa Tanabata Festival on July 30th, Katano Tourist Association participates in this event.
Venue: Aeon Mall Shijyonawate
Time: 12:30p.m. ~
(July 6th & 7th)
Tanabata Festival in Hatamono Shrine
Venue: Hatamono Shrine
Time: 17:00p.m.~ 21:00p.m.
(July 7th to 9th)
Aiaibashi Tanabata Festival
Venue: Aiaibashi Bridge
Time: 10:00a.m. ~ (Opening Ceremony is held from 19:00p.m. on July 7th.)
(July 7th)
Tanabata Festival in Hoshida Myokengu Shrine
Venue: Hoshida Myokengu Shrine
Time: Tanabata ritual 10:00a.m. ~ 11:50a.m.
Dance ritual 15:30p.m. ~ 16:20p.m.
(July 23rd & 24th)
Hoshida Myokengu Shrine 1200th Anniversary: Hoshuku Sai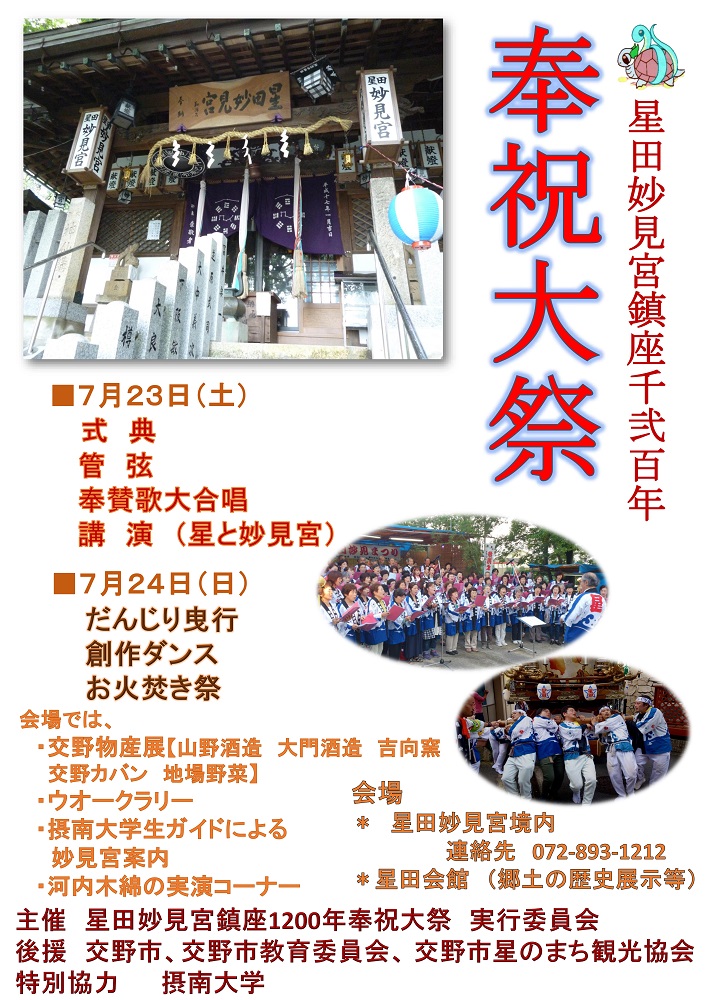 Venue: Hoshida Myokengu Shrine and Hoshida Hall
Time: July 23rd 9:30a.m.~
July 24th 10:00a.m.~
(July 30th)
Katano Amanogawa Tanabata Festival 2016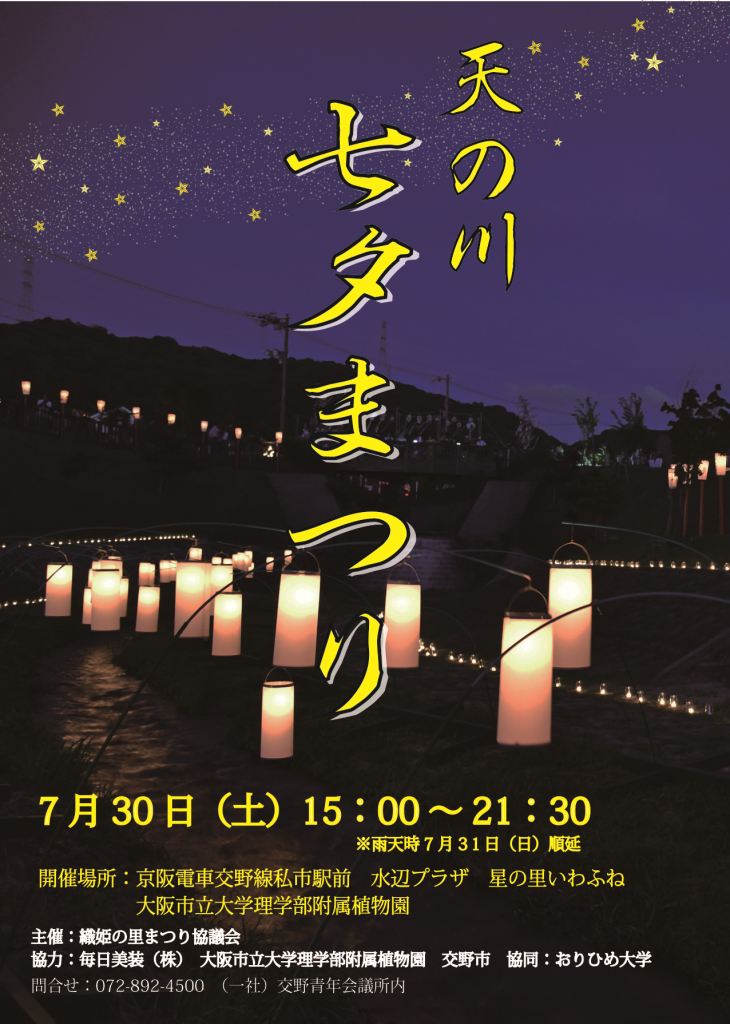 Venue: Keihan Kisaichi Station, the Botanical Garden of Osaka City University, Mizube Plaza, and Hoshi no Sato Iwafune
Time: 15:00p.m ~21:30p.m.
Katano Satoyama Trail Running Challenge Cup 2016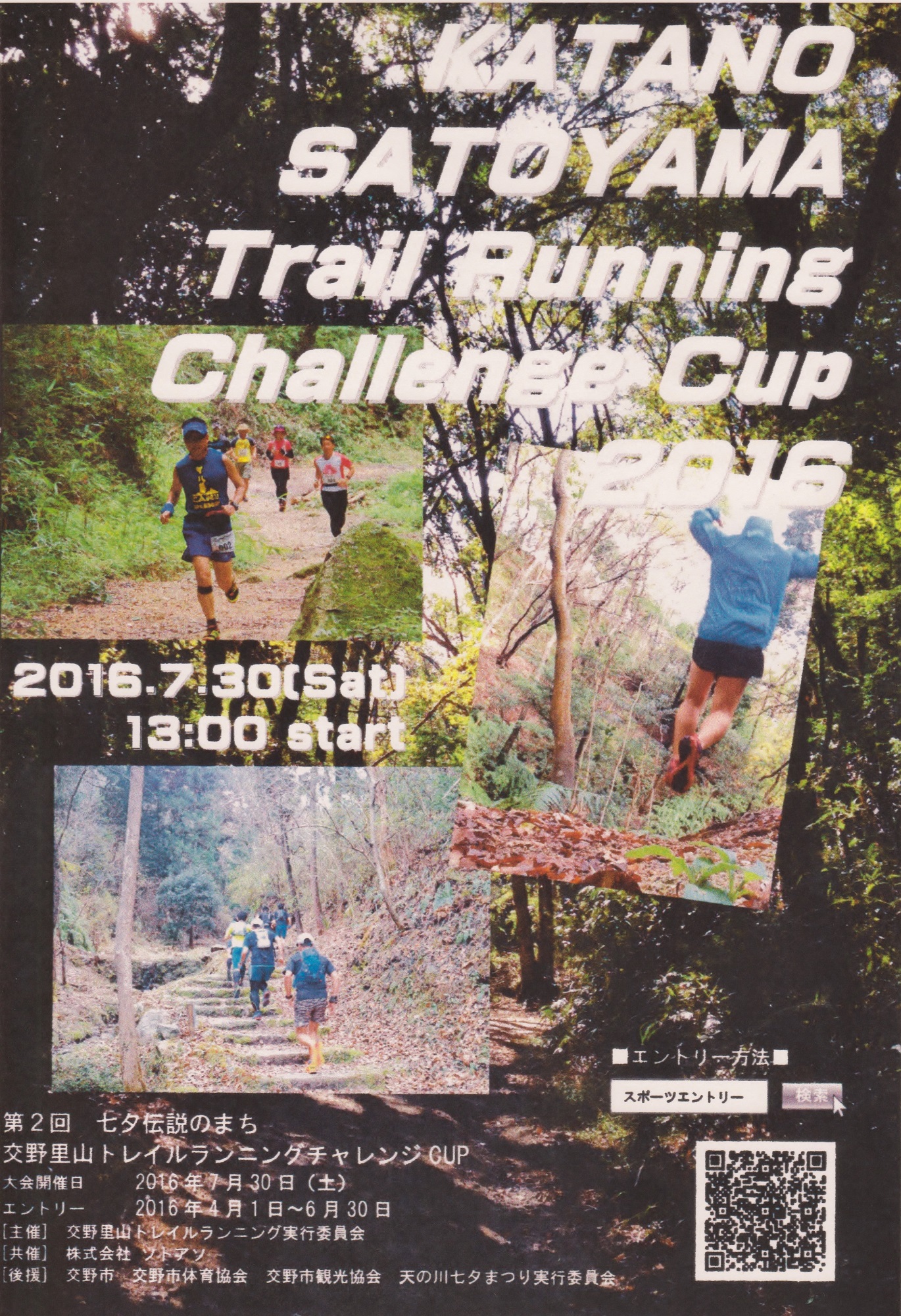 Venue: Hoshida Park
Time: 10:30a.m. ~
(Note) This page is retrieved from I Love Katano (http://www.lovekatano.com).